Les Etablissements
LAFAILLE
From the "PASSAGE festival" (Denmark and Sweden) to the « Fêtes le pont" festival with the CNAREP Sur le pont (La Rochelle), via the "Paléo festival" (Switzerland) and FIT CARRER in Vila Real (Spain), the company has been performed more than 260 times since 2018, and in 2023 a second creation, always with the fervent desire to make people dream internationally and already 20 performances in the year of creation.
"Les Etablissements" is the clown's grandiloquence. A reflection of his absurd and moving determination to exist.
"Lafaille" for the human failing. Derived from clowning, imperfection appeals to us, touches us. It's imperfection that says what's essential.
A rift is a space due to a movement beyond our control. It's an empty space in which anything can exist, from which anything can emerge.
To know us
Be infallible!

At the bottom of every flaw exists a thread that we do our best to pull because this is a golden thread. We are imperfect so we are precious.
Clown duo for public spaces
Nothing else than our Human height, some props, our imagination and our spectators' imagination.
Our dates
So festival, Passage festival, CNAREP sur le pont...tours France, Europe
Clown duo
for public spaces
Public space: from ordinary space to extra-ordinary space.
Flowers in the walls, colors under the bitumen. Sidewalks and concrete are full of mischief and poetry. The incongruous in the street, to marvel at your city and your neighborhood again and again! Open your eyes wide, discover the sky through the walls! We'll give our towns and villages scope and perspective, and breathe new life into our daily lives !
Playing with spaces, like gaps, from which anything can emerge, from which anything can exist.
For us, the street isn't a SPACE for play; it IS a game.
Active in the street arts, the company creates shows FOR public spaces WITH public spaces. We work on the poetic function of urban and natural living spaces, drawing on the functional and symbolic realities of the elements present in the street: furniture, spectators, architecture, inhabitants, passers-by, as well as the different spaces, whether commercial, service, transit, leisure or performance spaces…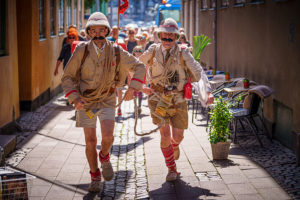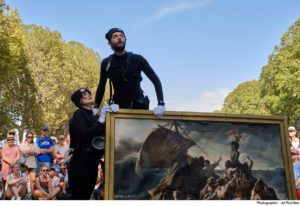 Physical burlesque and the performance of imperfection
Allowing spectators to rediscover their childlike glee in imagining.

The company is involved in the disciplines of physical burlesque, the arts of gesture and movement. Physical burlesque is a precise, subtle body language that embraces space. Language without words is our specificity. It's a specific, demanding grammar that's formidably effective in spaces not designed for the stage, such as the street. We are extremely demanding in our use of a visual language that is both precise and universal, with an eye to legibility and accessibility, in order to appeal to the public's collective imagination. Our overriding aim is to enable every spectator to rediscover, here and now, the joy of imagining.
The clown turns human cracks into magnificent canyons
Because we always start from the fragility and vulnerability of our characters, from what's most vulnerable about them. For they are the concentration of the human condition, the reflection of what makes us human, for better or for worse. To cross their eyes is for the spectator to look at himself.
At the heart of the fault !
Playing the street is for us acting the street, diverting our living spaces from everyday life, bringing them depth of focus, perspective, drawing vanishing points and horizons. 
UPDATING YOU
CONTINUOUSLY
To know everything about our tour dates and the news of the company